Apply New Digital E-Kyc Pan Card | Fingerprint Biometric System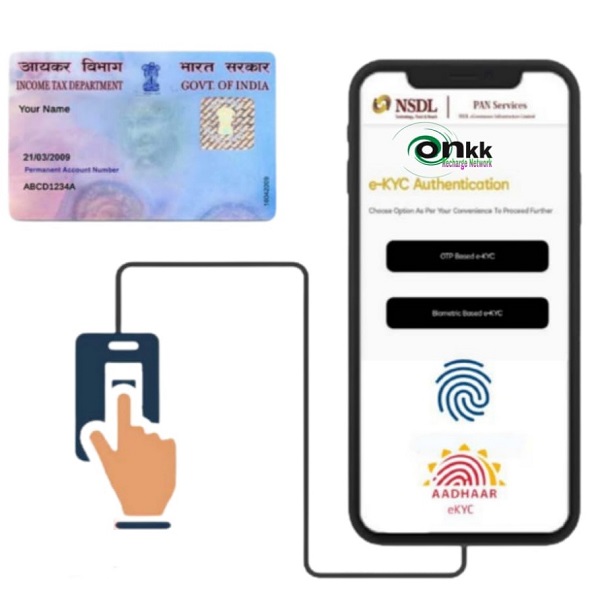 Onkk Recharge Network vision is to build an extensive public Nsdl e gov Services infrastructure that not only provides quality pan services, but also is available to ordinary citizens in urban and rural India.
Supplementary agent Outreach is a pan India network that provides convenient pan card services to citizens. All in all, this is one of Onkk Recharge Network missions to bridge the gap between the availability and accessibility of ordinary citizens providing simple pan card services.
As India's first interoperable Digital system, it is a pan card innovation that can serve any customer though our portable service with pan card interface. The Digital E-Kyc Pan Card is operated by an agent that will includes a wallet for Fingerprint Biometric Aadhaar Authentication base Application .
What transactions can be done at E-Kyc/ Pan Card?
NSDL Digital New PAN CARD (Apply New Digital PAN Card)

Aadhaar Authentication base Application (OTP Base)

No need to send KYC.(PAN soft copy Received Within 24hr.)
What are the benefits of using E-Kyc/Fingerprint Biometric System?
PAN Hard copy will be delivered within 7 days.

Wallet Base Payment

PAN Apply on NSDL official Page (Redirecting module)

Easy to carry, easy to set up anywhere in remote areas

Interoperable equipment that can work any agent

Helping people to be useful in the process of demonetization
The Pan Card is invented to help people of the rural area for the . However, in heavy cash crunch problem like today these types of Digital PAN Card is boon to everyone.
Apply online at www.onlinekkrecharge.in to buy Digital PAN Card Service at best price Today.